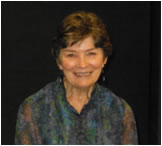 When I lay it out on paper, my life seems a bit lackluster, but I'm very busy and very happy, so that's what matters.   College and 43 years of working with students and their teachers followed graduation from Henley.  Helping students become better readers and writers is my passion, and even though I'm two years into retirement, I'm still blessed to do a little consulting work. 
48 years ago I married a fun-loving West Virginia hillbilly I met at college.  After teaching a few years in NM, Billy and I settled in Maryland where he started a construction business that we'll soon turn over to our son.  We produced 2 crumb-snatchers and now have 3grand-crumbsnatchers.  Ironically, our first-born married a Klamath Falls lad she met when she attended Oregon State Univ.  They, their daughter, and their son live near St. Helens, OR – way too far from Maryland.  Thankfully, our son lives near us, and we frequently enjoy his 11-year-old son's sports, school activities, etc. Billy and I also spend lots of time in southern West Virginia playing and working at our house and some river land we have there, as well as maintaining a farm where we hunt, fish, ride 4-wheelers, and sometimes even farm. 
My free time is occupied with vegetable gardening, sewing, researching ancestry, and sweeping up mounds of dog hair that perpetually fall off our house critter.  My dad, brother, and cousins still live in the Klamath area, so we get in there a couple times of year.  We also travel a few weeks annually, nothing exotic, but always fun.  My pic reveals a good bit of gray, a few extra pounds, and plenty of wrinkles, but the young (old?) Karen still resides behind the fading eyes and enlarging ears.